More Website Templates @ TemplateMonster.com. July 30, 2012!
Our engagement:
"A serious architect found in front of a ship the release of damn easements. You prefer respect for traditions, by the forces of nature, to mediocre ideas..." Le Corbusier
Read more
Work carried out :
All kinds of variety and colors for interiors.
We are a company dedicated to the manufacture of marine upholstery. Using the Best Quality Materials and work manship.
With over 30 years in the market, we have the tools and knowledge to complete all projects that your yacht needs.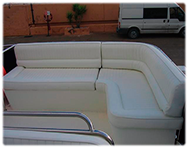 Protect from from the harshness of the climate.
Perhaps canvas awning is an extremely useful item when we stop our boat.In summer the Sun on our boat and heads us Cook, in winter, spray will wet the cover, humidity, rain and wind will be our companions. The use of an awning or anchoring canvas is absolutely necessary if we want to preserve our boat in good condition; both in summer and in winter. On cold days also have serious enemies to consider:. .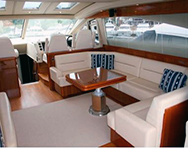 Change the vision and comfort.
Adding style to the smallest spaces on board makes a huge impact, and we've got the right fabrics for every nook and cranny. Sunbrella upholstery fabrics are a great choice for covering bunks and V-berths. Try using a lighter color fabric wherever you'd like to create the illusion of more space.
Read more